Morong Falmouth is a family owned business operating in Falmouth Maine. 
Morong started out in 1950 as Morong Brothers Body Shop, founded by Ben and Everett Morong.  After returning from serving the United States in WWII as a Navy Pilot, Horace Kennedy (Ken) Sowles introduced the automobile sales side of the business to the Morong Brothers in 1952.  Riley, MG, Jaguar, Austin, and Rover were among the brands sold at that time.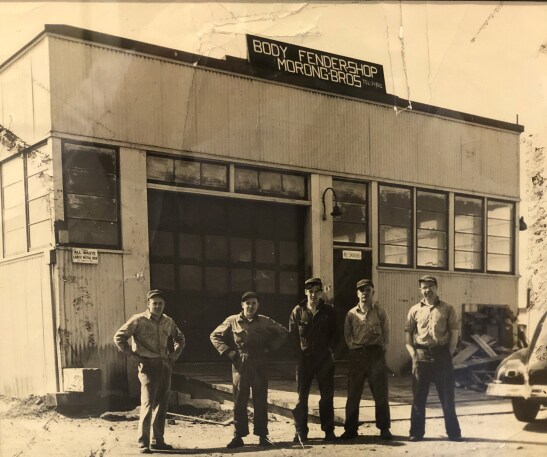 In 1954, Ken Sowles and Ben Morong started Morong Brothers Volkswagen (now the second oldest VW franchise in the United States).  A customer came into see Ken at the store in South Portland and asked if Morong Brothers could get him a VW Beetle, a car that was becoming extremely popular in the US at that time.  Ken Sowles called Volkswagen and requested a Beetle for his customer...  "Only Volkswagen dealers can sell the VW Beetle" replied Volkswagen.  Ken then asked the obvious follow up quesiton, "So how do I become a VW dealer?"   He was instructed to drive to New York and sign up to attain a VW franchise.  Ken Sowles did just that and the rest is history.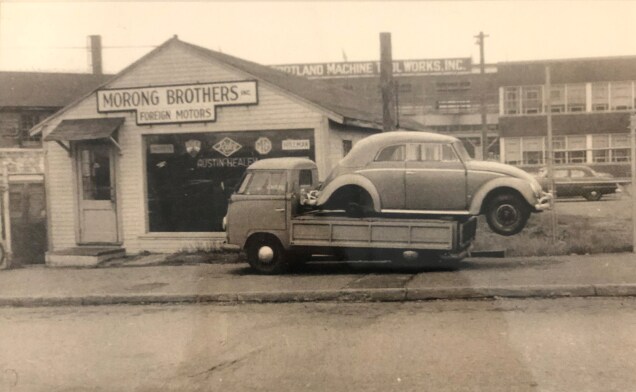 Porsche was introduced in 1955.  We are proud to be the oldest Porsche dealer in the United States! The Sowles family has a growing antique car collection, mostly comprised of antique Porsches at our Falmouth location.
In 1970, Ken Sowles bought out Ben Morong and moved Porsche and the newly aquired Audi brand to our current location at 187 US Route 1 Falmouth, Maine.  In 1976 Morong added the Mazda franchise, which was moved along with Volkswagen to the Falmouth location.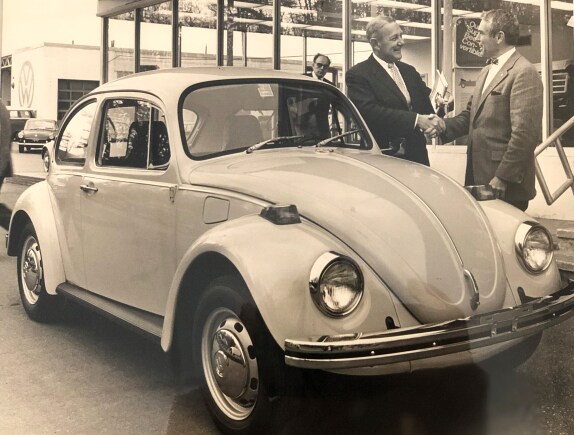 Ken's son Bill (now the President of Morong), began working for his Dad in 1976 and Ken's youngest son Peter (now Vice President), joined the business in 1984.  Peter and Bill both take after their father Ken as kind, humble, honest, hardworking individuals and business owners.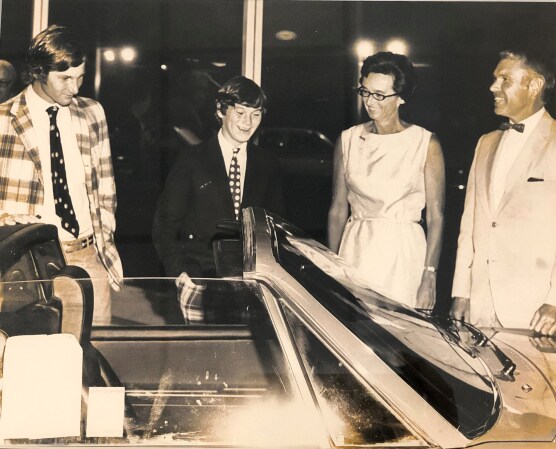 (Pictured above: Bill Sowles (left) Peter Sowles (center left) Margaret Sowles (center right) Horace Kennedy Sowles (right) 
Both of Bill's sons, Matt and Parker (3rd generation) now work full time in the store. 
Customer experience and exceeding customer expectations is vital to our business, and has been the key to the success for Morong over the last 65 years.  We welcome you and your family to visit us.  Whether you are looking to purchase a vehicle or have one serviced, Morong Falmouth and its staff look forward to assisting and welcoming you to the family!