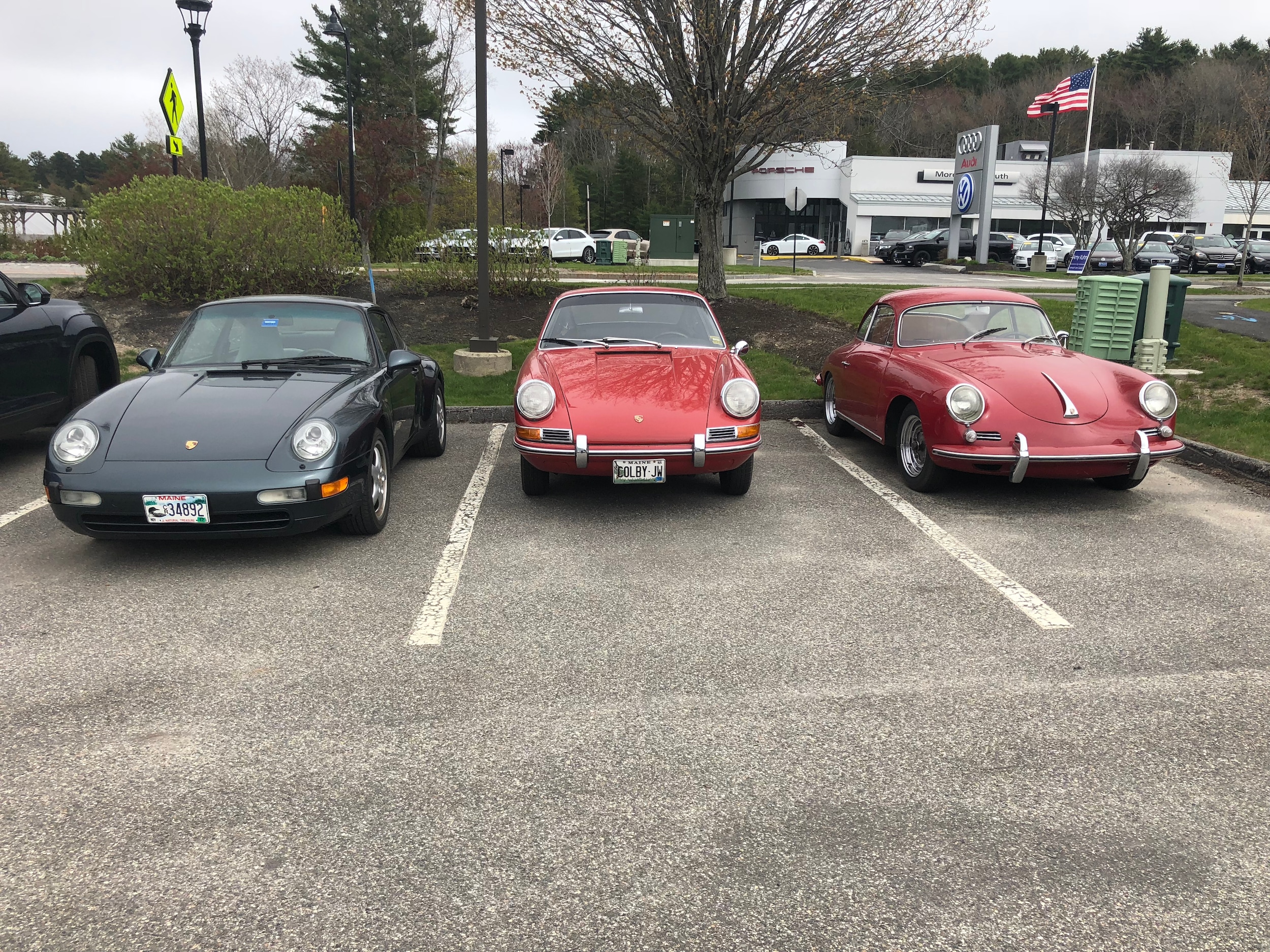 1947 MG TC 
This is the car that started the sports car craze in America.  After WWII, GI's returning home brought with them British sports cars.  At home, they used them for daily drivers during the week and raced them on the weekend.  They remain a much desired vehicle today.
This was just recently added to our collection. In 1950, our Dad started selling these along with other British cars such as Riley, Rover, Jaguar, and Austin.  So it remains dear to our hearts.
---



1959 Porsche Convertible D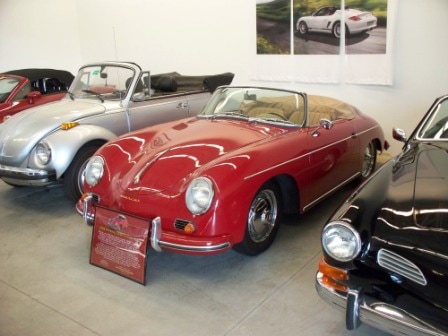 In 1958, the production of the revered Speedster stopped and the Convertible D was built for one year before production was shifted to building the 356 B Roadster.  This was considered an "improvement" over the lightweight, nimble and fast Speedster.  The windshield was a little higher (it was still removable for racing), it came with roll up windows (the Speedster had side curtains), and it came with more comfortable seats (the Speedster had racing seats).
This car was an early production car being 184 out of a total production of 1,366 and was actually built in 1958 as a 1959 model. It was acquired in the late 1980's and went through a complete renovation in 2010.  The body work is flawless and it is so much fun to drive on those nice summer days.
---
1960 Studebaker Lark Convertible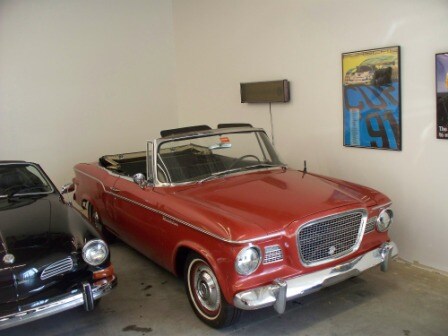 The Studebaker Lark was a product of the Studebaker-Packard Corporation.  It was an attempt to have a more economical and smaller car as compared to the huge cars being built by the "Big Three" (General Motors, Ford, and Chrysler) at the time.  Styling was very modern for the time with a simple grille, clean lines, and minimal use of chrome.  It had immediate success before sales started to drop off in 1962-63 and they finally went out of business.
Some of us may remember Studebaker as the primary sponsor of the Mr. Ed TV show staring Mr. Ed, the talking horse.  WIIIILBUUUUR
This convertible represents our heritage as we were a Studebaker dealer back in the 1960's.  It has a 6 cylinder engine with a three speed shifter on the column, otherwise known as "three on the tree."  It is the first year that the convertible was produced and is a great addition to our collection.
---
1961 DKW Munga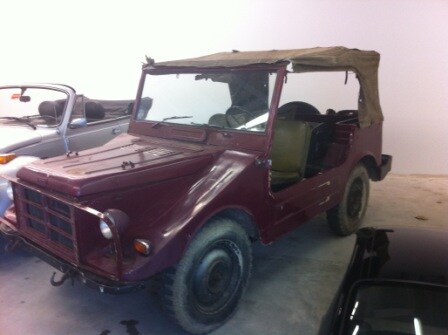 The DKW Munga was built by Auto Union in Germany for NATO after WWII.  They were used all around the globe since they were the premier multi purpose vehicle at the time.  They were used by farmers, military personnel, fire fighters, foresters, and others.  With its 2 cycle, 3 cylinder engine and all wheel drive, it could go just about anywhere.  It had incredible torque and a variety of attachments and tools that could be run off the PTO (Power take off).
Our Munga is currently going through a complete renovation in anticipation of putting it on our Audi showroom floor.  Since Auto Union eventually became Audi, it is an important piece of our heritage here at the dealership.  In addition, our father had one back in the 1970's and that is what Bill drove in the summer to get to his summer job.  In the winter, it had a snow blower on it to do his driveway.  So it is a special part of our collection as it holds many dear memories.
---
1964 Porsche 356 C Cabriolet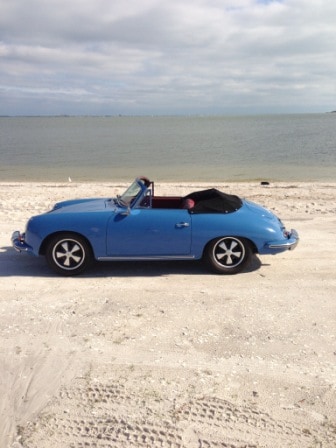 The Porsche 356 C was the last of the 356 series produced as the 911 was developed in 1963 and started being produced in 1964 as a replacement.  Production continued through 1965.  The 356 C was the most refined of all the 356's having disc brakes and the largest horsepower engine available in the SC models.
This car was acquired in the early 1980's and is driven on a regular basis today.  It is not available to view in our collection as it is Florida where it logs many miles with the Southwest 356 Club.  It is the desirable top down model and built in an amazing color combination.  Sky Blue with red leather interior.
---
1966 Volkswagen Beetle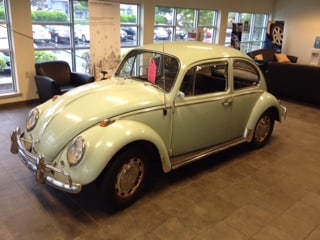 What can we say about this iconic classic.  Everyone has a "Beetle" story to tell.  It all started in 1949 when the first two Beetles were imported into the United States and the rest is history.  It was small, reliable, economical, and great in the snow although heating the inside was a bit challenging.  I remember driving with one hand and scraping the frost from the inside of the windshield with the other.
We acquired this Beetle in 1998 when the New Beetle was introduced.  It is an all original car that has no rust.  Although the paint is chipped in some areas, it is much more valuable in its original condition than if it is restored.  It is on our showroom and draws a lot of attention.  It is an amazing vehicle to drive and putts along the highway at 65 MPH although the side roads are much more fun.
---
1967 Volkswagen Microbus Deluxe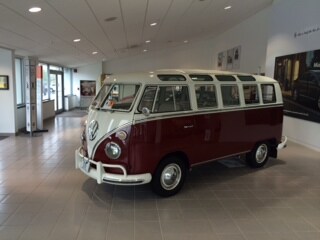 1967 was the last year for the split window microbus.  In 1968, there was a totally new design which improved the handling characteristics as well as comfort levels.  But, this 1967 model remains as one of the favorites for the 60's and 70's generation.  And they say Chrysler invented the minivan.  Not even close.
We acquired this model at the Owls Head Transportation Museum annual auction.  It was totally restored to its original condition and is remarkable to drive as well as to look at.  It has the desired 21 windows, sliding sunroof and front windows that open out providing nice air conditioning on the hot summer day.  We keep it on our showroom floor as a reminder to our heritage.  In 2014, we celebrate being a Volkswagen dealer for 60 years.  The third oldest dealership in the United States!
---
1967 Porsche 911 S Targa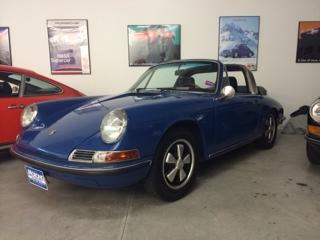 In 1964, the 911 series was introduced to replace the 356 and was a totally new design.  It is said that the design was totally done by Ferdinand Alexander Porsche otherwise known as "Butzi," although there is evidence today that says that he was not that involved.  In any case, it is a design that has held on for 50 years and it is amazing that the 911 is still in production today.  With a brand new 6 cylinder engine, it had the torque and power of the previous Carrera 4 cam engines, but without the extensive maintenance.
This 911 S is special because the S models were coveted in 1967 and this Targa model has a soft rear window that can be unzipped to give the car a more convertible feel when the top is removed.  Of course the stainless steel roll bar added rigidity to the chassis and was a safety feature as well.  This is a short wheelbase car that is highly desirable today.
---
1969 Porsche 912 Targa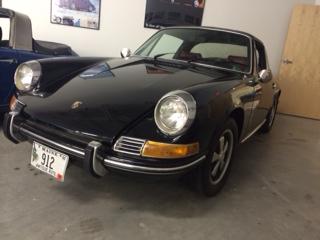 The 912 was produced alongside the 911 until 1969.  The difference being that it had the old 356 SC engine which produced 90 horsepower instead of the 6 cylinder 911 engine.  Because of the substantial difference in price between the old 356 and the 911, the 912 was a fun to drive new body style car, but it did not cost as much.
Since this was the last year of the 912 and the last year for the soft rear window, this is a very rare 912.  It is in exceptional condition in the right color combination and with the desirable Fuchs wheels. It is also the first year of the longer wheelbase which improved the handling characteristics.
---
1972 Porsche 911 T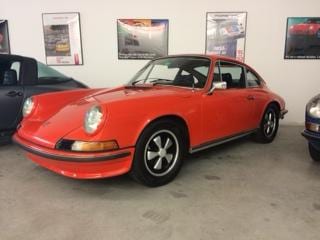 In 1972, Porsche produced 2 different models of the 911.  The 911 T had 130 HP and the 911 S had 190 HP as well as some other equipment that was standard.  You could get both models in either a coupe or Targa configuration.  This was the only year that the oil filler used an exterior filler and door and it is rumored that the reason for it being discontinued is that too many times a gas station attendant pumped gas into the oil reservoir instead of the gas tank.
This car has the original signal orange exterior and black sport seats.  Although it is a T, the engine has been modified to S specifications.  It has a lot of torque and is fun to drive although with no air conditioning, it is hot on a hot summer day.
---
1979 Volkswagen Beetle Convertible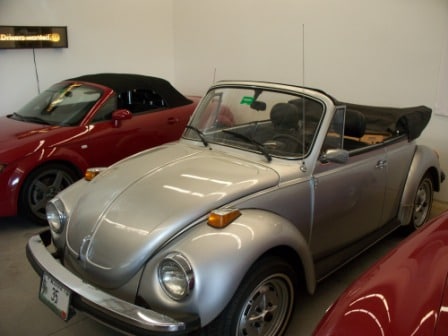 In 1979, the last Beetle Convertible was finally produced, thus ending a long production run for the United States market.  Mexico and Brazil still produced the regular Beetle for a while longer, but we transitioned over to the Cabriolet which was based off the Rabbit platform.
This Beetle is special because it was the daily driver for Ken Sowles who was the owner of our dealership at the time.  He could be seen around town in his oxford shirt and bow tie with the top down in just about any weather.  He remarked that it had the most comfortable seats of any car he had driven.
---
1984 Audi 4000 4 Door Sedan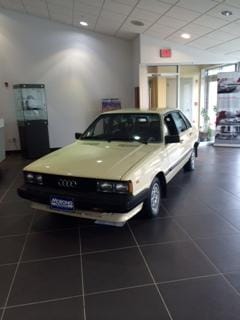 The Audi 4000 was the smaller model Audi offered at the time, but also its best seller.  The larger version was called the Audi 5000.  It had a 4 cylinder engine and came in either a 2 or 4 door model.
Our example was purchased new from us in 1984 and was just recently traded in on a new one after going over 200,000 miles.  I sits on our showroom floor as a reminder of our being the first Audi dealer in Maine starting in 1970.  It is in remarkable condition and still smells as new.
---
1984 Porsche Carrera Targa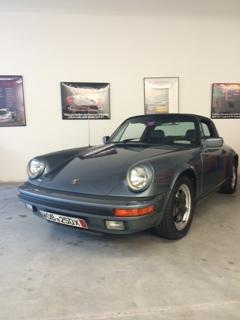 The Porsche Carreras were really bullet proof as they had worked out much of the problems associated with the 1974-77 series that struggled under the new emission regulations at the time.  This was pretty much true of all cars of that era.  It came in Coupe, Targa, and Cabriolet styles and all with 5 speed manual transmissions.
This particular car was picked up in Germany by us in 1984 as part of the tourist delivery program and was then sold to a local customer.  When the owner passed away, we were able to purchase it back again from his estate and preserve it in our collection.  It is driven every summer and put away in the fall.
---
1997 Bentley Azure
The Bentley Azure was a large luxury 4 seater convertible based off the Continental R platform with styling by Pininfarina.  It's styling was an immediate hit along with its performance.  With a 450 HP engine enhanced by a turbocharger, this 6,000 lb car could do 0-60 in just over 5 seconds.  The downside was that fuel consumption was around 10 MPG.
This car has an important lineage since it was once owned by the famous French singer and actor Florent Pagny.  He used it primarily when visiting his residence in Miami, Florida.  It is a gorgeous car that has the Bentley heritage with Italian design.  Bentley is now owned by the Volkswagen group.
---
1999 Porsche Carrera Cabriolet
In 1999, Porsche came out with the new 996 series which included a totally new design along with the first water cooled engine in the 911 series.  The lines were flowing with integrated headlights that were part of the front fenders.  It came in Coupe and Cabriolet versions and later as a Turbo too.
This is a low mileage example of this iconic model.  We took it in trade and decided to add it to our collection as the 996 series was an important part of the Porsche heritage.  It is as totally fun to drive today as it was back in 1999.  It has a power convertible roof that retracts into a concealed bonnet for a clean look.
---
2001 Audi TT Cabriolet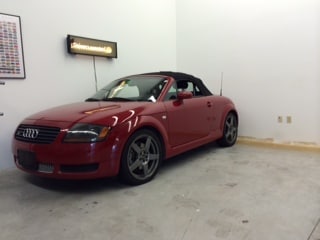 The TT originally came a Coupe and then the Cabriolet model was introduced.  This was a fun and stylish 2 seater sports car that was designed to compete with the Porsche Boxster.  The 2 litre turbocharged engine gives it plenty of power and handling is supurb.
This particular car was originally sold by us and later taken in trade when we kept it for our collection.  It is driven daily in the summer time so the Quattro system is not needed, but it gives the car a very positive feel in its handling characteristics.  Top down driving at its best here during the summer in Maine.
---
60th Anniversary Volkswagen 
Art Car creation by Laurence Gartel
Digital Media Artist Laurence Gartel is produced another outrageous art car 

 
- this time at Morong Falmouth. Gartel, known as the "father of digital art" for over 35 years, taught Andy Warhol how to use the Amiga Computer in 1985 and was the featured artist of last year's 113th New York International Auto Show at the Jacob K. Javits Convention Center. When asked, "How did you ever come up with the art car concept?" Gartel replied, "Tesla Electric Car Company commissioned me to produce my first art car. The car got so much attention on the streets of Miami that it went viral on the internet to over 25,000 websites. A new industry was born." Gartel met Morong Falmouth owner Bill Sowles on the 
Fireball Run Adventure Rally
, raising awareness for missing children in 2012.